ZIM's total revenues have more than doubled in the first quarter of the year, reaching US$1.74 billion, primarily driven by an increase in revenues from containerised cargo, reflecting growth in both freight rates and carried volume, while the company's net income climbed to US$589.6 million compared to a net loss of US$11.9 million for Q1 2020.
"Driven by ZIM's differentiated approach and proactive strategies, we generated our highest ever quarterly net profit, EBITDA, and cash flow, while continuing to deliver industry leading margins," commented Eli Glickman, ZIM president & CEO.
In particular, operating income (EBIT) for the first quarter of 2021 was US$683.5 million, compared to US$24.9 million for the same period last year, while adjusted Earnings Before Interest, Taxes, Depreciation, and Amortization (EBITDA) was US$820.5 million for Q1 2021, and adjusted EBIT was US$687.8 million for the first quarter of 2021.
 Additionally, ZIM has reported net cash generated from operating activities of US$777.4 million for the first quarter of the year, which is more than seven times increased from the Q1 2020 net cash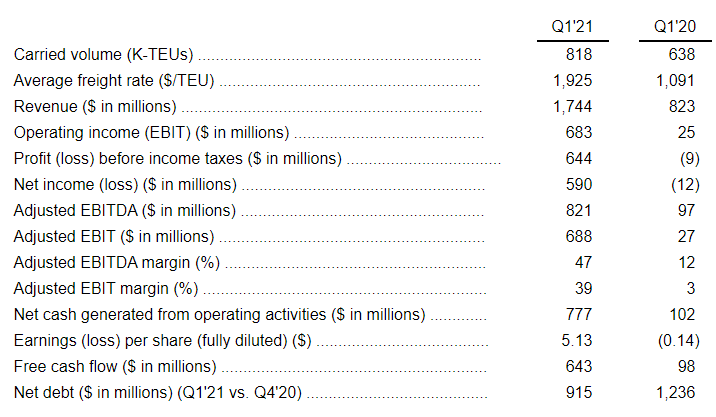 Meanwhile, the Israeli shipping line has carried 818,000TEU in the first three months of the year, while it carried 638,000TEU in the same period of 2020. The average freight rate was US$1,925/TEU for the first quarter of this year, almost two times higher compared with last year.
In addition, ZIM announced a strategic long-term chartering agreement with Seaspan for 10 "green" LNG-fuelled vessels during the last quarter, demonstrating its commitment to reducing its carbon footprint and following environmentally friendly practices in the shipping industry.
"As a result of our outstanding execution and the full completion of freight contracts at higher rates," Glickman noted that the company has increased its full-year guidance and expects to generate in 2021 an adjusted EBITDA of between US$2.5 billion and US$2.8 billion and adjusted EBIT of between US$1.85 billion to US$2.15 billion.
---